Visa-Free Private Shore Tours Saint Petersburg, Russia from 89 USD – half the price of a two day tour in the cruise ship's excursions brochure!

Are you arriving to St Petersburg by cruise ship?
Great! You will have a wonderful chance to see one of the most beautiful cities in the world without getting Russian visa in advance. Booking St. Petersburg visa-free private shore tours is much easier than you think. When you book your private shore tour with us, we organize for you free tour tickets which allow you to pass immigration office without any problem and enjoy your sightseeing in St. Petersburg. We design St Petersburg private shore tour itineraries to meet your budget, time, interests and group size. You can book half-day, one, two and three-day tour programs. Just let us know when you arrive and what you would like to see!
Private Shore Tours St Petersburg
How it works:
1. To provide you with tour tickets all we need from you is to send me scanned copies of your passports and the ship name via e-mail. Once the tour tickets are ready we are sending them to you and you print them out.
2. At the immigration office in St. Petersburg port you are to show: passport, printed tour ticket which we provide you with.
3. We will meet you as soon as you pass the passport control. You will see the sign with "your name" so it will be very easy to find us. A car or minivan will wait for you a few meters away, just outside the terminal.
How to book a private shore tour?
Please have a look at the shore tours itineraries we have specially created for cruise line passengers. The two day program covers ultimately most important St. Petersburg sights and attractions. Feel free to e-mail us and discuss the details of your shore tour or to make any changes that will suit your needs, interests and budget. We will carefully craft your very personalized itinerary according to your wishes. We can plan a hassle-free and meditative tour or in super intensive, cultural marathon style visiting all museums and palaces and churches of St Petersburg in one day. Maybe you have always dreamt of enjoying the famous Russian ballet "Swan lake" from the Tsar's box or really really looking forward to see walking bears on the streets of Russia? 😉  Share with us what you like, what excites you and we will come up with the ideas and suggestions how to make your private tour in St Petersburg at its best.
Two days visit program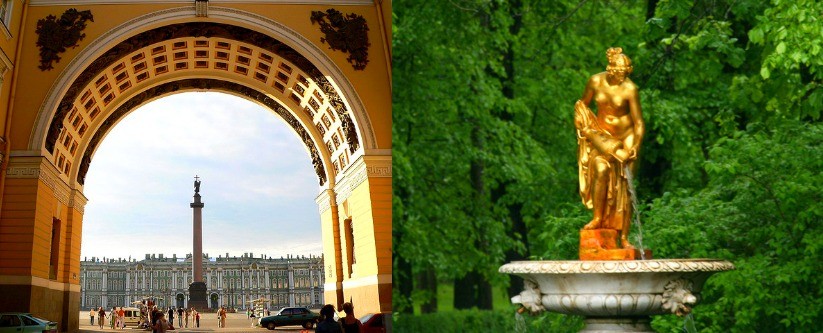 Day One   

8.00

»

Meeting at the ship

8.00-10.00

»

Driving around the city

10.00-10.30

»

Hydrofoil to Peterhof

10.30-12.00

»

Tour of the park with fountains

12.00-13.00

»

Driving to Pushkin

13.00-14.00

»

Lunch in "Podvorje" Russian restaurant

14.00-16.00

»

Catherine's Palace with its legendary Amber Room

16.00-17.00

»

Driving back to the city

17.00-17.30

»

Shopping and/or walking tour of Nevsky prospect

18.00

»

Back to the ship

Evening program – Russian ballet or folk show (your choice)

Please send a request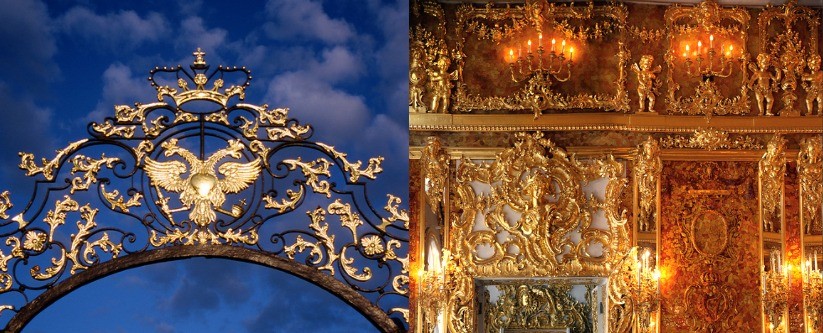 Day Two

9.30

»

Meeting at the ship

10.00

»

Hermitage Museum

9.30-12.30

»

Hermitage Museum general tour

"Golden Room" tour – under request

13.00-14.00

»

Lunch

14.00-15.00

»

Spilled Blood Cathedral

15.00-16.00

»

Boat tour along rivers and canals

17.00

»

Back to the ship
 Rates for Two days visit program:
Group of people

2 persons

3 persons

4 persons

5 persons

6 persons

8 persons

Rates per person

US $

517

407

395

300

270

259
Included:
– Guide service
– Car or minivan with a driver
– Entrance tickets to all the museums, mentioned in tour
– Photo fee for all the museums where photo is allowed
– Port fees and tour tickets (visa free tours permission)
– Babushka doll magnet gift for everyone!
– Bottled water free of charge for everyone
Not included: Cost of the evening program and lunches.
Private Shore Tours St Petersburg